ECMC Museum

Introduction
The Engineer Corps Memorial Centre (ECMC) Museum is housed in the ECMC main building and comprises 35 display cabinets of all sizes, comprising a range of displays in chronological order.  Some 80+% of the 60,000 items of the RNZE Corps collection are on display, with the balance remaining in storage awaiting inventory, refurbishment and installation. A chronology of the Corps (from the early 1800's to the present day covers the key milestones and important occurrences in the Corps' history at the entrance to the Museum and guides visitors to the sequence of displays.  All of the Corps' collection are assets of the RNZE Charitable Trust and are covered by a special comprehensive insurance policy.
Access
The Corps Museum is open to the public every Thursday (except public holidays), from 1pm to 4.30pm. Please read this document for the requirements to the  ECMC and LMC.  The ECMC is located at the eastern end of the Camp, adjacent to the Chapel and on the right hand side towards (and before) the Fire Station near the exit gate to the housing area.  The ECMC complex is sign-posted, but if in doubt, seek assistance from the security staff at the Camp entrance gate.
Corps Collection Display List
Display List
RNZE Corps History Timeline Maori as a Military Engineer
Royal Engineers (RE) in NZ Evolution of the RE
Canterbury Engineer Volunteers (1865-1910) Auckland Engineer Volunteers
Wellington Engineer Volunteers Dunedin Engineer Volunteers
NZE Tunnelling Company (1915-1919)
NZE Submarine Mining Companies
Engineer Demolition and Other Equipment Items
WW1 Electronic (Photo) Display
Kitchener Room – Kitchener Silver, Other Silverware and Medals Collection
WW1 – Samoa and Belgium/France
WW2 – Crete, Greece and North Africa
WW2 – SW Pacific and Italy
Model Bailey Bridging Equipment
Korea (1950-1957)
Malaya, Borneo and Indonesia (1955-1965)
Vietnam (1964-1975)
Thailand Feeder Road Project and Op Crown
Fiji
Cook Islands – Atiu Harbour Project
Pacific Islands – Samoa, Solomon, Tokelau and Tonga
Scott Base Rebuild – Antarctica
RE in the Falkland Islands
Army Fire Service and Army Fire Incidents
Op CRIB – Afghanistan (2003-2013)
Op RADIAN – Bosnia (1994-95)
Demining in Angola, Mozambique and Namibia (1988-1994)
Engineer Tools of Trade – Measuring, Drafting, Survey, etc
Linton Camp as "Hone of the Engineers"
SME – History
RNZE Units 1949 – Present Day (Photo Collection)
NZ Army Fire Brigades and Stations
Op RAKE – Iraq (2003-2004)
Op SALAM – Pakistan (1989-1991)
Demining Operations in Cambodia and Laos (1992-2003)
Engineer Communications and Signalling (>1921/1936)
NZ BATT in East Timor (1992-2012)
Engineer Bridging and Watermanship
Numerous miscellaneous engineer artworks and displays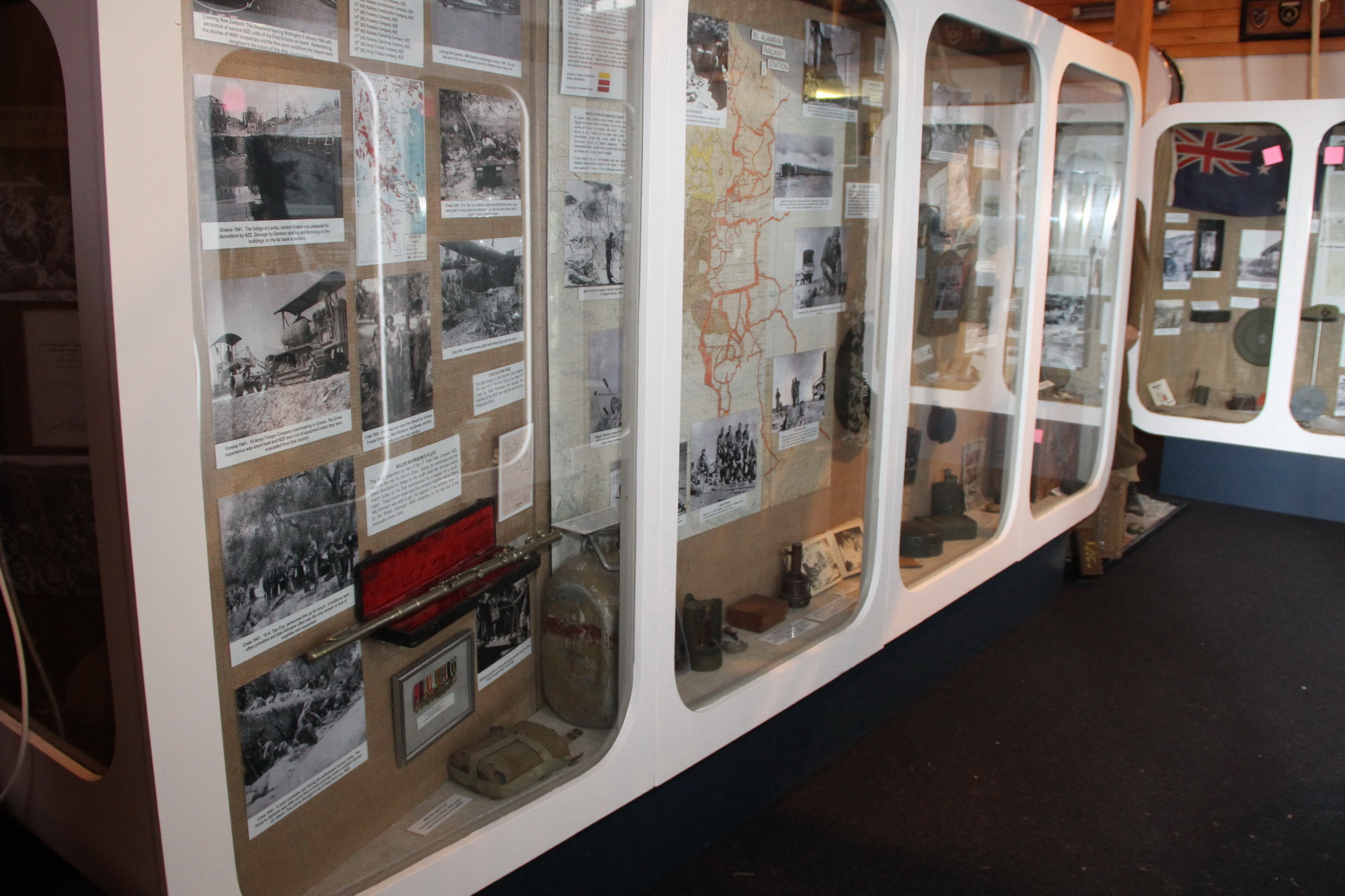 ECMC Museum Projects
Apart from the various displays within the ECMC Museum area, there are a number of other projects being undertaken by the museum (volunteers) staff.  These include the cataloguing and inventory of items, identification and naming of artefacts and photos, information and resource sorting, scanning, digitising and post-processing of heritage and graphic material, refurbishment of current displays, establishment of new displays, model making, photography, introduction of interactive displays, various conservation, preservation and protection activities on artefacts and memorabilia, map mounting, electronic displays and so on.  The Museum is used regularly by members of the public, Armed Services, NZDF and others for research purposes, by tertiary education institutions, historians, researchers, Ministry of Culture and Heritage staff and more. It is an excellent resource base covering military engineering and history, professional and technical engineering aspects, New Zealand history and so on.
ECMC Museum Stores
Uniform Store – a room within the museum area is used to store a wide range of uniforms, headwear and other dress accoutrements from WW1 to the present day. These items are sued in the various displays throughout the museum, as well as being available for other external display commitments. This is an environmentally stable and temperature-controlled room, to ensure the conservation, preservation and protection of clothing and other fabric holdings.
External Store – a temporary container (previously an expandable mobile surgical hospital container) comprising environmentally sensitive materials, documents, files, clothing and dress items, webbing, flags, photos, slides, plates and negatives, previous files and records from old Chief Engineer's Office, offices of Field Force and Land Force HQ Engineer Cells, etc. The container is fitted with a heat pump and air conditioning unit to ensure the conservation, preservation and protection of stored contents. There is also a working area available within the container, which is used for sorting and cataloguing archival material and heritage items. This replaces a store within the main building, which is now used as part of a HQ facility for another (QAMR) major unit within 1 (NZ) Brigade in Linton Camp
Corps Silver and Policy
THE RNZE Corps has a silver collection. The Corps Silver Policy is HERE